I'm not sure how many of you listen to podcasts, but there are some pretty good ones out there for endurance athletes. I thought I might pass on a few links in case you're looking for great, free content.
EndurancePlanet
------------------------
EndurancePlanet has always had great 10-20 minute interviews with endurance athletes, and is one of the few that has interviews with folks such as
Scott Jurek
,
Gillian Robinson
, and
Bernie Boettcher
. EndurancePlanet was
recently bought by Kevin Patrick
, who has put more of a multi-sport emphasis on the content, but has also made the production much more professional. I don't mean to knock Izzy, the original interviewer - it was amazing what he could do in a single take interview - but now the production is professionally packaged and a bit easier on the ears. Definitely check out the recent podcasts on the
Barkley Marathon
(one finisher in the 20+ years of running it), and trail running featuring the
KC Trail Nerds
(rock on, BadBen!).
The Competitors Radio Show
---------------------------------------
Hosts Bob Babbitt and Paul Huddle are hilarious in their
long format interviews
of triathlon pros, cycling greats, performance medicine specialists, and coaches. It's a great way to hear the scoop on Ironman races directly from the front runners. Check out the
1 hour post-Ironman interview with 2nd place finisher Chris McCormack
, and
Badwater/Ultraman competitor David Goggins
.
The Final Sprint Podcast
---------------------------------
The Final Sprint Web blog/Web site
is frequently updated with running news and micro-stories about products and tips.
Their podcasts
features 8-10 minute interviews with pro and amateur runners, coaches, and folks with new books out. The quality of the podcast is definitely more amateur than the rest (I love when you can hear the host exhale loudly when the content gets dull), but the content is typically original and interesting.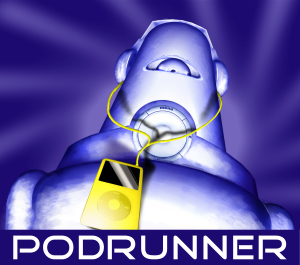 PodRunner
---------------
If you're looking for a dance/electronica mix all set at the same BPM, then
PodRunner
is the place. I've found this to be good background music for long runs where you want to sustain a fast turnover. Since there are rarely lyrics, it's not nearly as distracting.
I'm sure there are other good ones, but this is what's on my iPod. You can find all of these within iTunes by searching for their name. If you know of others, be sure to leave a comment and point us to it!
Thanks, SD