For all of you with high performance dogs, here's the latest from Ruff Wear. How cool would it be to live in Bend, OR, and design products for outdoor dogs?
I thought the quotes from the Outdoor study were also encouraging. Nothing like a recession to drive people into nature. ;-)
SD
Ruff Wear Dog Gear Unveils New Spring Products For Four Legged Friends
Exploring Destinations Right Out Your Front Door is the New 'Vacation'
Bend, Ore. (
PRWEB
) April 5, 2010 -- An increase in local outdoor activities and the growing popularity of day trips means dogs are joining our adventures now more than ever. With the return of warmer weather, Ruff Wear, the leading producer of high performance dog gear, unveils a new canine hydration pack, dog bed for backpacking, a soft disc dog toy that floats, and a stink-proof, waterproof dog collar. The SingleTrak Pack™, Highlands Bed™, Hydro Plane™ Dog Toy, and Headwater™ Collar will be available starting April 1, 2010 through specialty pet and outdoor retailers as well as through
www.ruffwear.com
.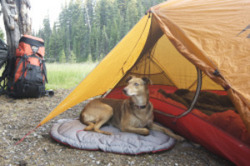 Ruff Wear's Highlands Bed
According to recent research, Americans are re-connecting with nature.
Data from the 2009 Outdoor Recreation Participation Topline Report, published by The Outdoor Foundation, shows that an increasing number of Americans returned to nature and active outdoor activities in 2008.
48.6 percent of Americans participated in outdoor recreation. From day hiking in an urban park to backpacking in a designated wilderness area to snowboarding at a mountain resort, 135.9 million Americans enjoyed the benefits of a healthy, active outdoor lifestyle.
The study finds double-digit participation increases in nearly every nature-based activity including backpacking, mountain biking, and trail running. In addition, hiking and camping were up almost ten percent. With the growing popularity of 'staycations', many people have become reacquainted with adventures and destinations closer to home.
SingleTrak Pack™
– The newest addition to Ruff Wear's popular line of dog packs is a low-profile pack that includes two collapsible Platypus® Platy™ water bottles for lightweight mobile hydration. Hydrate your dog (or yourself) while trail running, mountain biking, and hiking in dry conditions.
MSRP: $89.95/sizes Small, Medium, Large
Highlands Bed™
– Ruff Wear's Highlands Dog Bed is ideal for backpacking and camping. When minimizing weight and space is important, this ultra-light, compressible dog bed is easy to pack into the backcountry. In fact, the Highlands Dog Bed fits perfectly into Ruff Wear's Palisades Pack™ so your dog can carry his or her own gear.
MSRP: $74.95/one size
Hydro Plane™
Floating Dog Toy – This soft disc was built for dogs that love to play fetch in
or around water. The Hydro Plane floats on top of water – like a pontoon – for increased visibility while swimming.
MSRP: $19.95/one size
Headwater™ Collar
– The newest dog collar from Ruff Wear is both waterproof AND stink-proof. Each of the four colors features a reflective pattern on the collar for high visibility. The Headwater Collar is designed for dogs that live to swim, play water fetch, and live in rainy climates. The waterproof-coated webbing keeps the collar looking and smelling like new.
MSRP: $24.95/sizes Medium, Large
"With the current economic environment, many of us have become acquainted with adventures and destinations closer to home. And adding four-legged friends into the mix can exponentially increase the fun. Dogs have the uncanny ability to make every outing a new experience. As we explored our surroundings here at Ruff Wear this past season, we combined our personal experiences with our customers' product suggestions to come up with new gear that offers fresh opportunities for adventure," said Patrick Kruse, Ruff Wear's founder.
About Ruff Wear
Ruff Wear's mission is to build performance product to enhance and inspire outdoor adventures for dogs and their human companions. Ruff Wear encourages an active lifestyle for everyone with a four-legged friend - stay fit, healthy and happy - on a trail run, a day hike, or multi-day backcountry adventure. Our Performance Dog Gear™ combines performance, quality, fit, function, and safety to meet the needs of active and adventurous canines and their humans.
Ruff Wear is committed to preserving open lands and waterways, providing important habitat for wildlife and recreational opportunities for humans and canines. Ruff Wear partners with The Conservation Alliance to protect these special places so important to us. Additionally, Ruff Wear works with regional grass roots organizations, giving back to the community, and creating opportunities to strengthen the bond between humans and their dogs.
Ruff Wear was named to Outside magazine's (
http://www.outsideonline.com/
) third annual "Best Places to Work" list in April 2010 and ranked No. 41 out of 50 selected companies. The full list and related story will be published in the May issue of Outside magazine, available on newsstands April 13, 2010.
In addition, Ruff Wear was recognized by Oregon Business Magazine as one of the "100 Best Green Companies to Work for in Oregon" in June 2009.
Based in Bend, Oregon, Ruff Wear sells their products through specialty pet and outdoor retailers as well as
www.ruffwear.com
. Find Ruff Wear on Facebook,
http://www.facebook.com/ruffwear
and on their Dog Blog,
http://dogblog.ruffwear.net
.