Scott Jurek successfully defended his title by winning the 2006 Kiehl's Badwater Ultra in 25:41:18, braving conditions that included 120+ degree heat, rainstorms, and flash floods. His time was just over an hour from his record-breaking 2005 finish in 24:36.
(Scott Jurek crosses the line at Mt. Whitney;
photo courtesy of Chris Kostman, Greg Minter, and ADVENTURECorps)
Jurek finished just 15 minutes ahead of first-time Badwater runner Akos Konya from Oceanside, CA. Konya had surprised the field by setting a blistering pace (pardon the pun) as part of the 6am start group set aside for first-timers. This allowed Konya to be the first across the finish line in 25:58:42, but he had to wait and count the seconds for Jurek's 10am start time to catch up (Greg Minter has a great interview with Konya
here
). By the time it was done, Jurek had edged him out. Charlie Engle (28:18:36), Canadian Ferg Hawke (28:45:10), and David Goggins (30:18:54) finished out the top 5.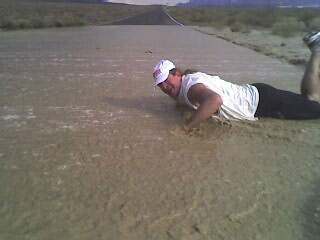 (Frank McKinney takes a dip in a flash flood on his way to a 27th place 43:02:40 finish;
photo courtesy of ADVENTURECorps)
Monica Scholz
dominiated the female division, finishing 7th overall in 32:07:01. She was nearly 5 hours ahead of Noora Alidina from Palm Harbor, FL (37:16:15). Maria Lemus (39:54:10) finished up the top 3.
Other strong performances of
Trail Runner Blog
regulars included
Dean Karnazes
(8th, 33:33:51), Luis Escobar (9th, 36:45:10), and Xy Weiss (18th, 5th female, 41:04:15).
You can find results
here
, and pictures
here
. Congratulations to all the racers and crew who braved the heat, and to the runners still out there!
- SD