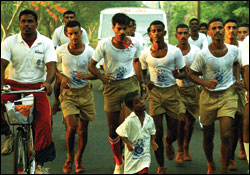 Imagine running 48 marathons in one year...and being only four years old. Now imagine that the weight of an impoverished nation rests on your little shoulders, as greed, temptation, and corruption come at you from all angles. This is
the story of 5-year-old Budhia Singh from India, featured in a documentary called "Marathon Boy"
airing on HBO on Nov 3rd.
Set your DVR's, people! Sounds like a riveting tale.