Uganda swept the Mens podium at the
29th World Mountain Running Championships in Krynica Zdrój, Poland
this weekend, while Alice Gaggi from Italy scored gold for the Women and led the Italian team to a top finish. This was an "up and down" year, with Men running a 13.5k course and the Women running a 9k course.
(Team Uganda take 1-4, photo courtesy of @usmrt)
(Phillip Kiplimo takes the win, photo courtesy of Nancy Hobbs)
Phillip Kiplimo (UGA) triumphed over his teammates in the final stretch, with Geoffrey Kusuro taking silver, Nathan Ayeko taking bronze. Joe Gray (7th) was the top US contender after 2011 World Champ Max King had to pull out with a twisted ankle while leading early in the race. Zachary Ornelas (25th), Alex Nichols (27th), Ryan Hafer (29th), and Glenn Randall (79th) were the other top US finishers, pulling Team USA to a 4th place finish.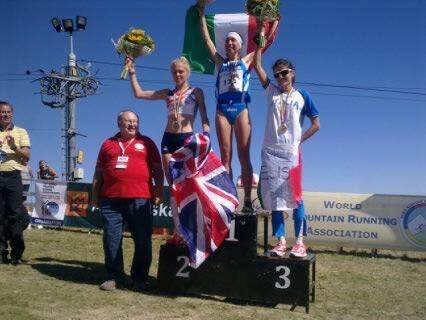 (Women's podium)
Italy's Alice Gaggi scored gold on her birthday to take the top spot in the Women's competition, with the UK's Emma Clayton taking silver, and Italy's Elisa Desco taking the bronze. US Olympian Magdelana Lewy-Boulet (11th), Christine Lundy (29th), Megan Lizotte (32nd), and Megan Kimmel (36th) scored 5th for Team USA in the team competition, behind Italy, Great Britain, Ireland, and Turkey. Team USA's Mandy Ortiz (daughter of former Team USA member Anita Ortiz)
scored an impressive gold in the Junior Women's division
.
(Mandy Ortiz on her way to gold)