There has been a lot of attention on Fastest Known Time (FKT) attempts in the last few years, and the Summer of 2013 has been no exception. In the last few months, FKT records have fallen on three big trails - the Pacific Coast Trail (PCT), the John Muir Trail (JMT), and the Appalachian Trail (AT).
(Anish in the home stretch, some 20 lbs lighter)
Heather "Anish" Anderson from Bellingham, WA, set the self-supported* record for the 2,655-mile Pacific Coast Trail from Mexico to Canada earlier this week, completing the journey in 60 days, 17 hours, and 12 minutes. That's a solid 3+ days faster than the previous record of 64 days, 11 hours, and 19 minutes set by distance hiker Scott Williamson in 2011. You can still catch a lot of Anish's journey on
her Facebook page
, which she updated along the way.
Then a day later, Josh Garrett, a 30-year-old Santa Monica fitness instructor,
completed the same PCT through hike in a supported* fashion
in 59 days, 8 hours, 59 minutes. Both hikers averaged over 45 miles a day.
(Matt Kirk on the AT, photo courtesy of Matt Kirk)
Matt Kirk, a 32-year-old school teacher,
set a new self-supported* FKT on the 2,185-mile-long Appalachian Trail and became the first to do it under 60 days
with his finish of 58 days, 9 hours, 40 minutes. Kirk broke the 20-year-old record, set by Ward Leonard, of 60.5 days. (Jenn Pharr Davis still holds the supported* record of 46 days, 11 hours, 20 minutes that she set in 2011)
(Hal and Mike on the JMT)
North Face teammates
Hal Koerner (Ashland, OR) and Mike Wolfe (Missoula, MT) teamed up to set a new supported* FKT for the 223-mile JMT
that runs from Whitney Portal in Bishop, CA, to Happy Isles in Yosemite, CA, in 3 days, 12 hours and 41 minutes. The arduous course rarely goes below 8,000 feet, and is known for long sections of hot and exposed mountains. The new record beats Brett Muane's supported record of 3 days, 14 hours and 13 minutes, set in 2009, and Muane continues to hold the unsupported record stands at 3 days, 9 hours and 58 minutes (in one of the few cases where an unsupported record is faster than a supported one).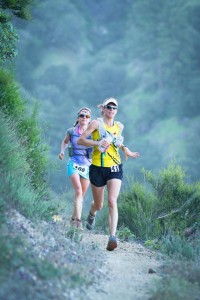 (Jenny Capel tackles the TRT)
Reno, NV's Jenny Capel beat the Women's record for circumnavigating the Tahoe Rim Trail a few weeks ago,
completing the 165-mile high altitude tour in 53:39
, beating Betsy Nye's record of 55:20.
Yassine Diboun and Brian Donnelly are out on the PCT Oregon section now
to set a new unsupported record there, and there's probably a few more tackling the other stretches. Simply amazing what these guys are doing!
And no doubt, I'll be hearing the acronym-laded "did you hear MK set the FKT on the AT?" in ultra conversations to come... ;-)
- SD
* Here are the definitions of unsupported, supported, and self-supported per the FKT ProBoard:
Supported, self-supported, unsupported? What does it mean?
Supported means you have a dedicated support team that meets you along the way to supply whatever you need. This generally allows for the fastest, lightest trips, and for an element of camaraderie and safety, since someone knows about where you are at all times.
Self-supported means that you don't carry everything you need from the start, but you don't have dedicated, pre-arranged people helping you. This is commonly done a couple different ways: You might put out stashes of supplies for yourself prior to the trip, or you might just use what's out there, such as stores, begging from other trail users, etc.
Unsupported means you have no external support of any kind. Typically, this means that you must carry all your supplies right from the start, except any water that can be obtained along the way from natural sources. This approach has also been termed "alpine style". The longest trip I'm aware of using this style is Coup's 20-day thru-hike of the Colorado Trail. For most people, carrying enough food for more than a few days to one week will be prohibitive. Unsupported also means unaccompanied!